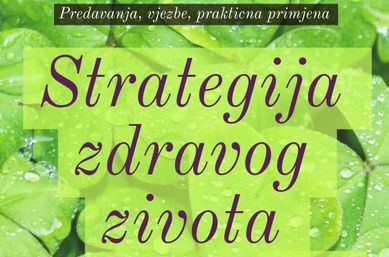 Strategija zdravog života, ako uopće takvo nešto i postoji, započinje otkrićem. Otkrićem Izvora samog Života. Otkrićem onoga koji stvara i živi Život.
Da bi živjeli zdrav Život, trebamo i sami biti zdravi. Da bi živjeli sretan i ispunjen život, trebamo i sami biti sretni i ispunjeni.
Zato ovaj vikend posvećujemo otkrivanju Onoga koji Stvara, Živi i Slavi Život. I to činimo meditacijom, plesom, upoznavanjem sa tijelom...prirodom.
Meditacija, pogotovo ona Ultimativna, vodi te do direktnog iskustva Izvora Života. Otkriva nepresušno vrelo mira i radosti. Daje ti čistu sliku Svijeta koji te okružuje. Ta spoznaja omogućuje Život bez stresa, bolesti i drugih situacija koje nas sputavaju i guše.
Ples daje mogućnost da osjetiš Život u sebi, pokret i impuls Bića koje stvara i živi. Ples te vodi na unutarnje putovanje kroz razna stanja poput radosti, poleta, lepršavosti, nježnosti, snage, moći, dostojanstva... Treba znati da je stanje u kojem se trenutno nalaziš iznimno bitno jer je to energija koja stvara sve tvoje životne okolnosti. Stoga je ples jedan od alata pomoću kojeg možeš vrlo lako promijeniti svoje unutarnje stanje i unijeti sreću i radost u svoje biće, tijelo i Život.
I naposljetku...Tijelo. Upoznavanjem tijela i njegovih zakonitosti nestaje osjećaj ograničenosti kojeg ponekad ili uvijek imamo u sebi. Da bi imali zdravo tijelo trebamo znati kako ono uopće nastaje, kako se mijenja i zašto s vremenom počinje propadati (stariti).
I zato ne propusti ovaj vikend jer je ovo jedna od onih životnih prilika koje te pozivaju da na trenutak staneš, udahneš i istinski doživiš sebe u pravom svjetlu i Istini, da upoznaš svoje snage i sposobnosti da utječeš na Svijet oko sebe i učiniš ga boljim, sretnijim i zdravijim za sebe i druge oko tebe.
Obavezne rezervacije možete ostvariti na linku  EcoActive
VIKEND NA KRKU:
Program:
PREDAVANJA (ulaz slobodan) dvorana MO Kras (otok Krk)
Petak 2.6. u 20h
"strategija zdravog života"
Subota 3.6. u 20h
"ravnoteža tijela kao prvi veliki korak u radost života"

Programi i tečajevi (ulaz je naplatan uz rezervaciju!)
Subota 3.6. i nedjelja 4.6.
8.00h Dreamdance plesna meditacija
11h Biti u središtu - vođena meditacija